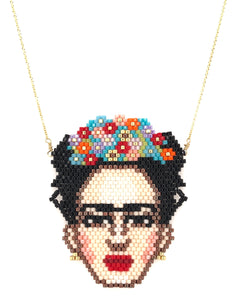 FRIDA KAHLO Necklace
 " I tried to drown my sorrows, but the bastards learned how to swim, and now I am overwhelmed by this decent and good feeling." Frida Kahlo
In case you didn't know...
"Frida Kahlo (Spanish pronunciation: [ˈfɾiða ˈkalo]; born Magdalena Carmen Frida Kahlo y Calderón; 6 July 1907 – 13 July 1954) was a Mexican painter known for her many portraits, self portraits , and works inspired by the nature and artifacts of Mexico. Inspired by the country's popular culture , she employed a naive folk style to explore questions of identity, postcolonialism gender, class, and race in Mexican society. Her paintings often had strong autobiographical elements and mixed realism with fantasy." Wikipedia 
Necklace
Beads: Glass
Chain Length 16" 
Chain Materials: 14KGF or Sterling Silver
Pendant Size: 4.5mm x 5.75mm
*We pride ourselves on high quality materials when making our jewelry. We use 14k Gold filled and solid Sterling Silver 925. All pieces are hypoallergenic, safe for sensitive skin, and always nickel free. All Jewelry is able to be worn in the pool, shower, ocean, or wherever your bohemian adventures take you.

......................................................

ABOUT GOLD FILLED
Gold filled jewelry is jewelry that has a layer of solid gold bonded with heat and pressure to a durable metal such as sterling silver. Gold filled pieces are significantly higher quality and stronger than typical gold plating and will last for years to come.

.........................................................

Follow us on Instagram to stay updated on new pieces, promotions, and give away events!
-@baraboheme

bara boheme is a curator of beauty who embodies the bohemian spirit, and her many travels throughout the world are reflected in her unique designs.