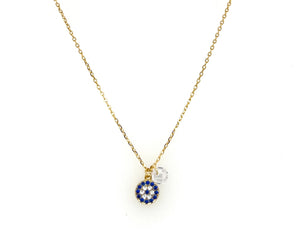 EVIL EYE "ATHENA + CRYSTAL" SAPPHIRE NECKLACE
Stones: Cubic Zirconia & Sapphire

Pendant Size: .75 cm

Length: Adjustable 16"-18"
                ATHENA + CRYSTAL was made for those who like to keep it, dainty, elegant, understated, but oh so beautiful! This piece is perfect for any occasion!
       The purpose of the evil eye is to protect the wearer from evil and ward off the evil that has been directed at them. The evil eye is used across many cultures all over the world.
         Made with love by bara boheme
.........................................................

Follow us on Instagram to stay updated on new pieces, promotions, and give away events!
-@baraboheme

bara boheme is a curator of beauty who embodies the bohemian spirit, and her many travels throughout the world are reflected in her unique designs.