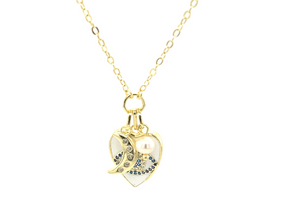 Evil Eye "VENUS" CHARM Necklace
Chain Length: 16" + 2" extension

Pendant Size: 1.5 Cm


Stones: Cubic Zirconia & Sapphire with Freshwater Pearl


Material: 18K Gold plated on Sterling Silver & Enamel

     There are some pieces that instantly catch your eye and make you think, "WOW" and that is exactly the essence of VENUS. The detailing on this charm necklace is enough to make anyone swoon!
        The purpose of the evil eye is to protect the wearer from evil and ward off the evil that has been directed at them. The evil eye is used across many cultures all over the world.
                                               Always handmade with LOVE by bara boheme
.........................................................

Follow us on Instagram to stay updated on new pieces, promotions, and give away events!
-@baraboheme

bara boheme is a curator of beauty who embodies the bohemian spirit, and her many travels throughout the world are reflected in her unique designs.